Want to play confident, creative solos?
ACPG Solos is a step-by-step guide to becoming a confident lead guitar player.
I've designed this to be the most thorough, most engaging beginner soloing course out there. Whether you want to be able to play along to backing tracks or records at home, jam with friends or get ready to join a band, this course is for you.
Across over 70 videos and 7 hours of content, I take you through everything you need to know: essential techniques, exercises, licks, solos, rhythm, theory, gear.
If you want to play rock, blues, punk, jazz (or just about any other style, for that matter) this course will give you the skills you need to get off to the best start. All for the price of a couple of private lessons.
Let me tell you a bit more about what to expect from the course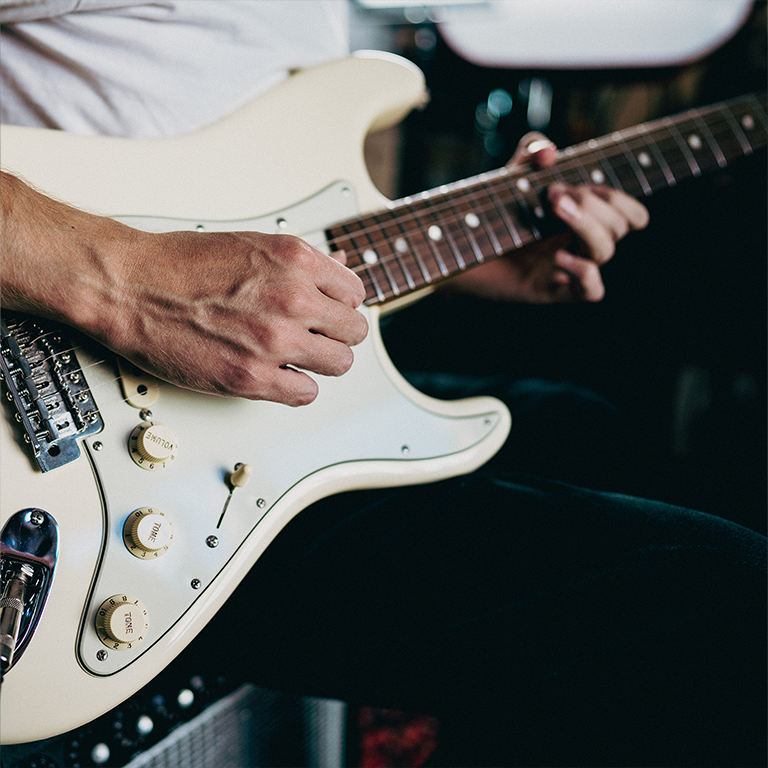 Essential Licks
A big part of learning to solo is getting a feel for the language of lead guitar. This course contains over 80 great-sounding, authentic licks, and 10 complete guitar solos.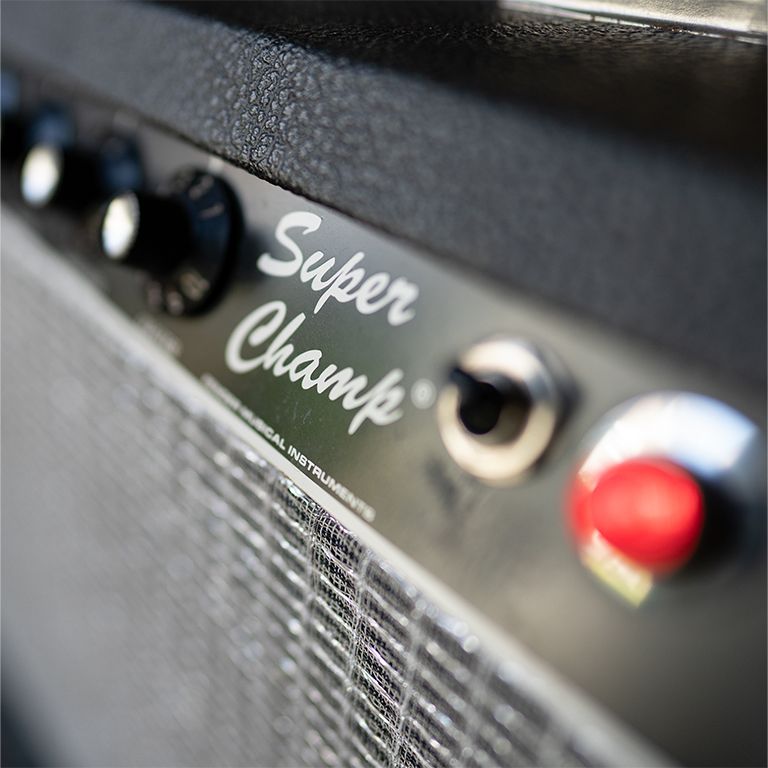 Find Your Own Voice
As well as giving you preset licks and solos this course also emphasises the importance of really understanding the instrument and being able to take ideas and make them your own.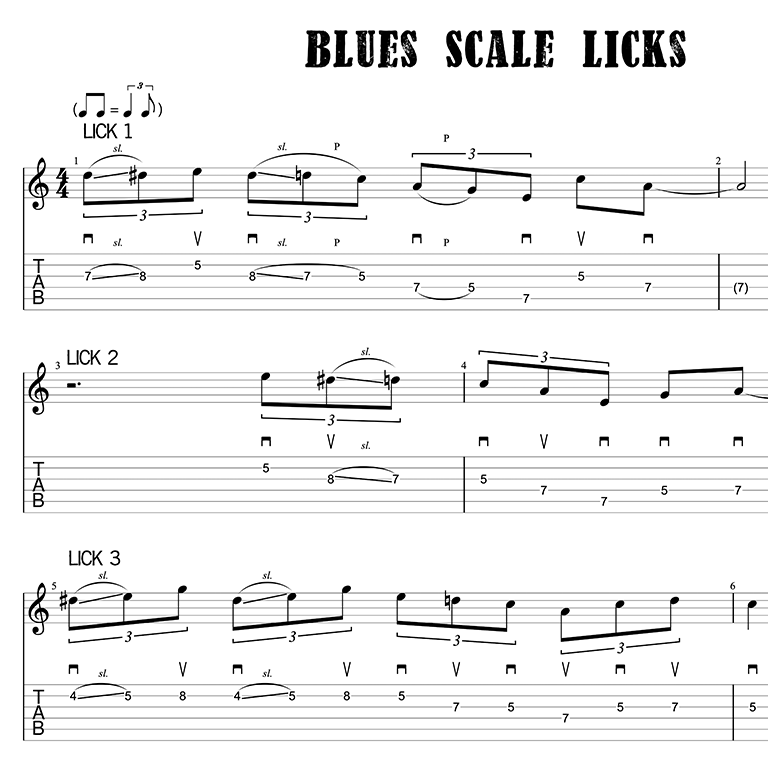 Detailed Resources
Every example in this course has been meticulously tabbed out in PDF and Guitar Pro formats, including rhythms and picking suggestions. There are also fretboard diagrams, and 12 professionally produced backing tracks to jam along to.
Who is the course for?
This course is aimed at anyone who wants to start soloing and with style and confidence. It's primarily intended for beginners looking to start exploring electric lead guitar. But because of the detailed and comprehensive nature of the course it could also be of benefit to slightly more experienced players looking to really understand what they're doing and fill in any gaps in their knowledge.
The course is thorough and progressive, and very little prior knowledge is assumed. Having said that, it would be helpful to have some grasp of the real basics - how to hold the guitar and pick, know some open position chords and strumming, and be able to play some simple songs.
Who isn't the course for?
This is very much a beginner level course. If you're an intermediate player who already has a good grasp of soloing and improvising with the minor pentatonic scale then this course isn't going to be for you. If you're not sure, make sure you check out the full curriculum list before signing up. (If you do sign up and the course isn't what you expected, a no questions 30-day money back guarantee is offered.)
Maybe you're looking for short cuts, hacks, and fast-track methods? If so, you won't find them here. Whilst I've tried, of course, to keep things fun and engaging, this course is an in-depth exploration of how to solo, designed for people who are serious about becoming better players.
No more aimless surfing through YouTube videos
YouTube is great, I still put out a weekly video on my ACPG channel. But, let's face it, if you're looking for a clear pathway for learning guitar YouTube is likely to leave you feeling pretty dazed and confused. Trying to find the good stuff can be a near impossible task.
With this course I'm giving you a clear plan of action. Everything you need to start soloing with confidence is here. Each video follows on from the previous one in a logical, progressive way. All you need to do is grab your guitar and start practising.

Complete list of content
(Be sure to click the arrow at the bottom to see all 10 modules)
What's Included:
Instant access to 10 core modules, over 7 hours of video content
Detailed, accurate PDFs for every exercise, lick and solo
Guitar Pro files
Downloadable backing tracks
A bonus module looking at guitar gear basics


Frequently Asked Questions
Do I get permanent access to the course materials?
Yes, once you've enrolled you get instant lifetime access to all the videos and other course content.
Can I download the videos to watch offline?
For piracy and copyright reasons the videos aren't available to download (though you can download all the PDFs and backing tracks). You do have the option of using the teachable app which allows you to save videos to watch offline (this currently only works with iOS and not Android).
I've been playing for x number of years, will the course still be useful to me?
The course is primarily aimed at beginners wanting to get started with lead guitar. However, it may be of some interest to people who have been playing a bit longer who want to get back to basics or fill in some gaps in their knowledge. If in doubt, make sure you take a careful look at the full curriculum before making a decision.
If the course isn't for me, can I get me money back?
Yes, there's a 14 day money back guarantee if you buy the course and find it's not what you were after for any reason.
Do I get any personal feedback or interaction with the instructor?
This is an online, video-based course that you can complete at your own pace. As such, there's no direct interaction with the teacher. I will however be available in the comments under each video, and will do my best to help people out and answer every question asked there.
Does the course cover modes, the CAGED system, sweep picking etc..?
This is very much a beginner's course, so whilst I may touch on a few more advanced concepts, that's not the main focus. Please take a close look at the curriculum to see exactly what's covered.
It seems like a lot of of money, do you offer sales/discounts?
I realise it's not cheap and I certainly don't want to exclude anybody here, but I feel it's priced fairly considering the massive amount of detailed content, and the time it took to put it all together. For that reason I don't do sales, Black Friday deals or any of that stuff. Putting it in perspective, it's the price of a couple of private lessons with an experienced teacher.
Check your inbox to confirm your subscription